Live Feed
School Lunches:
Kingston families,
Lunches will be provided for Hesperia Students at Ranchero from 11:00pm-12:00pm. Please share with them your child's name and ID# and what school they attend. If you don't have a card with a barcode you can simply email your Student's Name, ID# and School they attend to nutrition.services@hesperiausd.org. They will then email you a Scannable Meal ID Card as a PDF. This PDF can be printed or displayed on a smartphone during meal pickup.
If you need help knowing your child's Id # you can find this in your Infinite Campus Portal, or you can contact your child's teacher or the school office.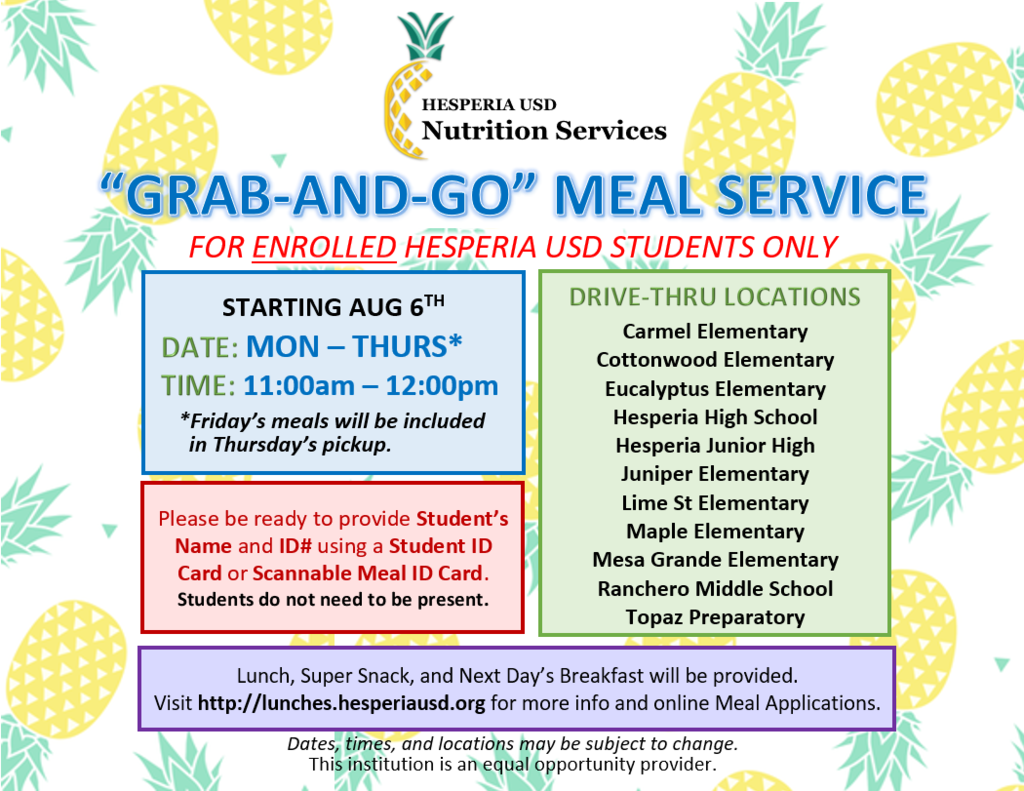 Kingston Elementary School
6 days ago
It has been brought to our attention that some of our families have received notices for planned SCE power outages to take place from 8:00am--3:00pm. These outages may affect a families ability to connect to school devices to receive instruction. Unfortunately for some, the outages may affect the first day of school, Thursday, August 6. Other notices indicate they may have an outage on August 12. I am unaware if there are others. In any case, we want to ensure that your child's attendance is not negatively impacted. Please communicate with your child's teacher if this affects you so that we can be sure not to mark your child absent. Attendance can be taken either through being present virtually, or by completing course work. We will be sure that teachers include some video based information and task(s) to be completed when wifi becomes available (could be the following day or beyond). This will be sufficient for positive attendance. Additionally, teachers will ensure any information students need that they missed will be reviewed to ensure all feel confident and comfortable to be successful in distance learning.
If the outage affects you or if you are unable to login or have other computer related issues...The above still applies. Our goal right now at the beginning of school is to build relationships with students and families, help communicate the format and schedule, routines and procedures. This will be a work in progress and we will adjust to better meet the needs of our students and families. Please let us know if you have any questions or concerns.
Kingston Elementary School
6 days ago
Check out Kingston Elementary Facebook page to see a video tutorial of Chromebook pickup process, connection to Wifi, and Logging into your child's teacher's classroom. So easy a Principal can do it.
See you tomorrow:
TK/K/1: 9:00am-12:00pm
New Students 2nd-6th: 12:00pm--3:00pm
Kingston Elementary School
7 days ago
CHROMEBOOK PICKUP
For our incoming TK, K, 1st graders we will have a Chromebook pickup Wednesday, August 6 from 9am-12pm
For any new student in grades 2nd-6th or any student from last year that did not have a chromebook, Chromebook pickup is Wednesday, August 6 from 12:00pm-3:00pm.
It is helpful if you keep your scheduled time however, if needed you can choose another time slot. If you are unable to attend either of the times, please contact the school to arrange another pickup time.
Important--When you come to pick up the chromebooks we are asking that you follow CDC guidelines by wearing a mask and keeping 6ft social distance. Please walk up to the cafeteria door and stand in line until you are called in. If this time doesn't work with your schedule, please call the school between 9:00 am - 3:30 pm and we will arrange another plan for you to pick up materials.
You will be receiving a phone call from your child's teacher to give you first days information and to give you some idea of what to expect. When your child's teacher calls, they will give you all the information you will need for the first day of school such as login information, start times, and so forth. Please let us know if you have any questions.
Please follow us on social media or visit our website for updates and information
Kingston Elementary School
8 days ago
View All Posts »
VEXRobotics
LegoRobotics
Professional Learning Community
4 C's