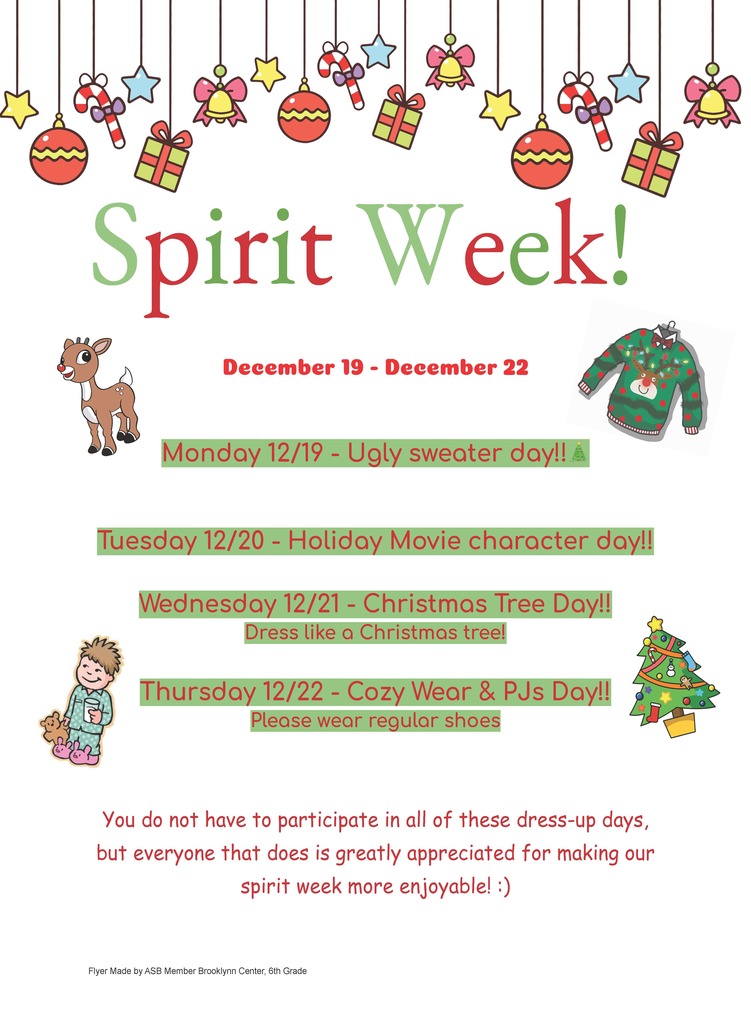 Kingston families, We would like to remind you that there is no school next week Nov. 21st-25th. We hope everyone has a restful break and a very Happy Thanksgiving!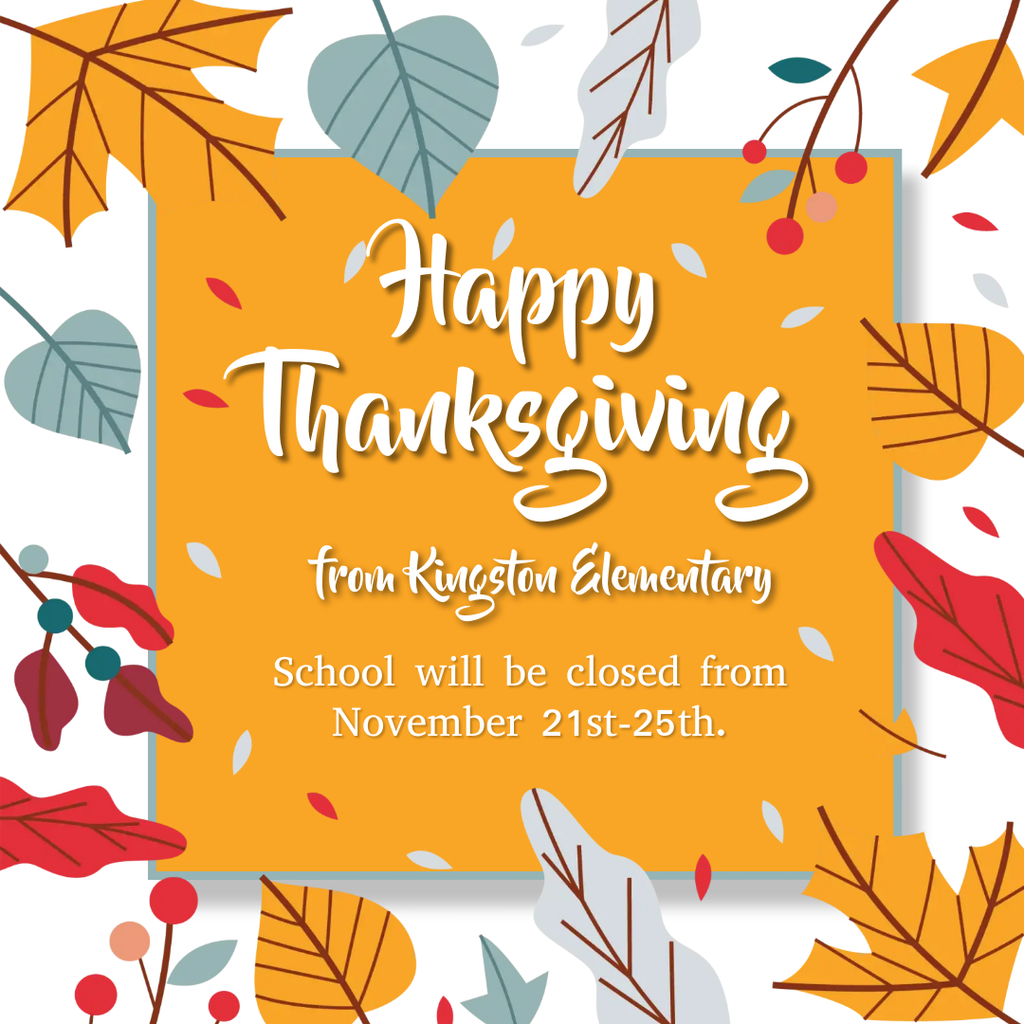 HUSD and the HDAOR (High Desert Association of Realtors) are committed to stopping youth substance abuse. The HDAOR "How to recognize-prevent substance abuse" meetings are aimed at helping parents help children deal with peer pressure, detect substance abuse problems, and/or determine appropriate intervention steps. The HDAOR will host a series of free workshops dedicated to helping those who have not become involved in drug or alcohol use to avoid doing so and encourage those who are struggling with addiction to get the help that they need. For more information please visit:
https://5il.co/1kigd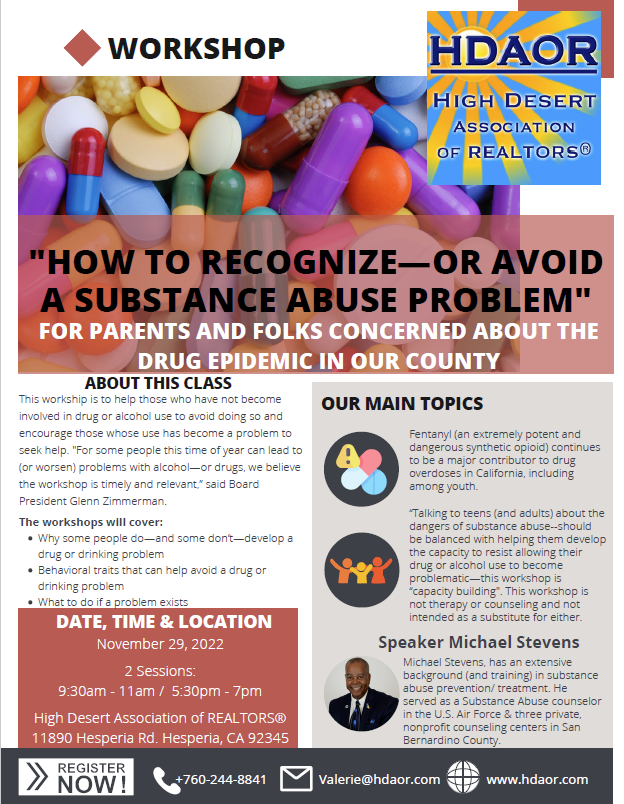 Hello Kingston Families! We have a special opportunity for our upcoming kindergarten families for next school year. Come to our Kingston Cafeteria on Monday, November 14th from 4 pm to 5 pm to get informed. Please see the flyer for more information. (¡Hola familias de Kingston! Tenemos una oportunidad especial para nuestras próximas familias de jardín infantil para el próximo año escolar. Vengan a nuestra cafetería de Kingston el lunes 14 de noviembre de 4 pm a 5 pm para estar informados. Consulte el folleto para obtener más información.)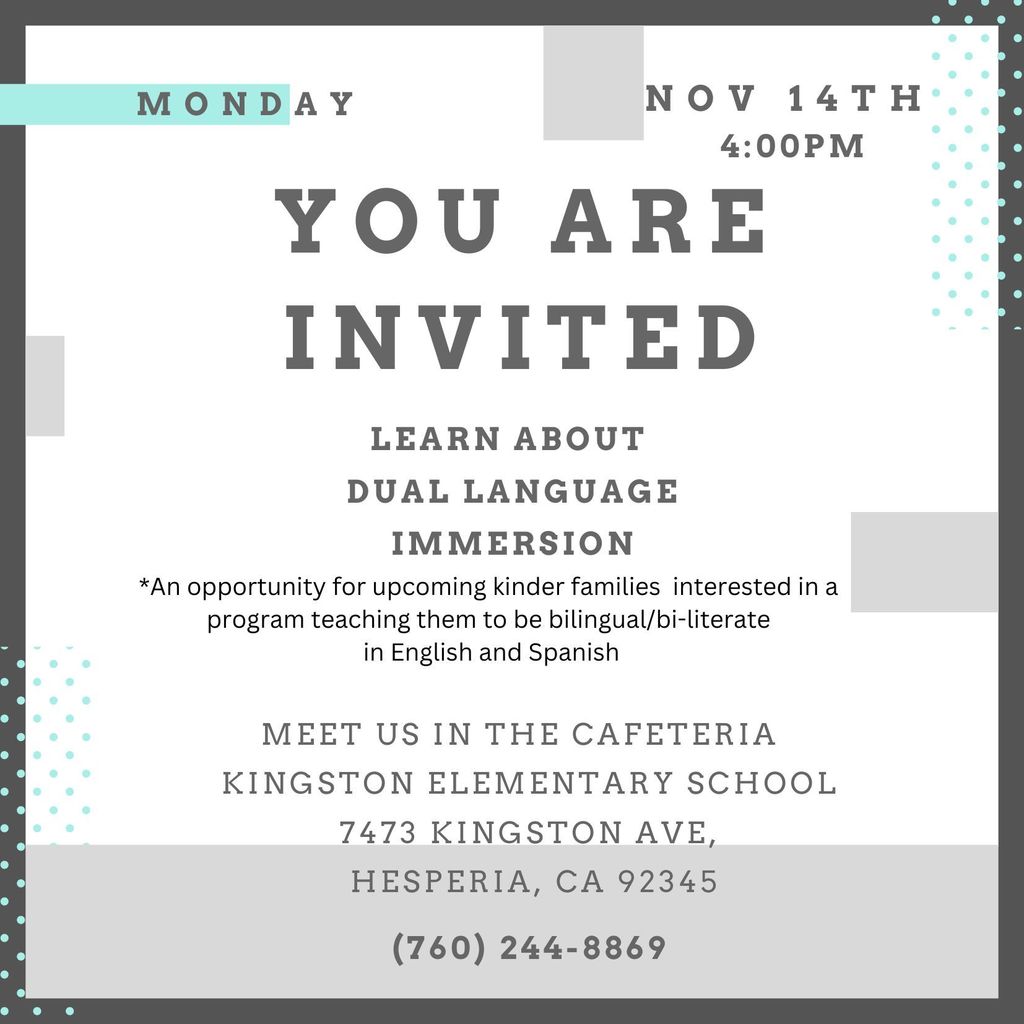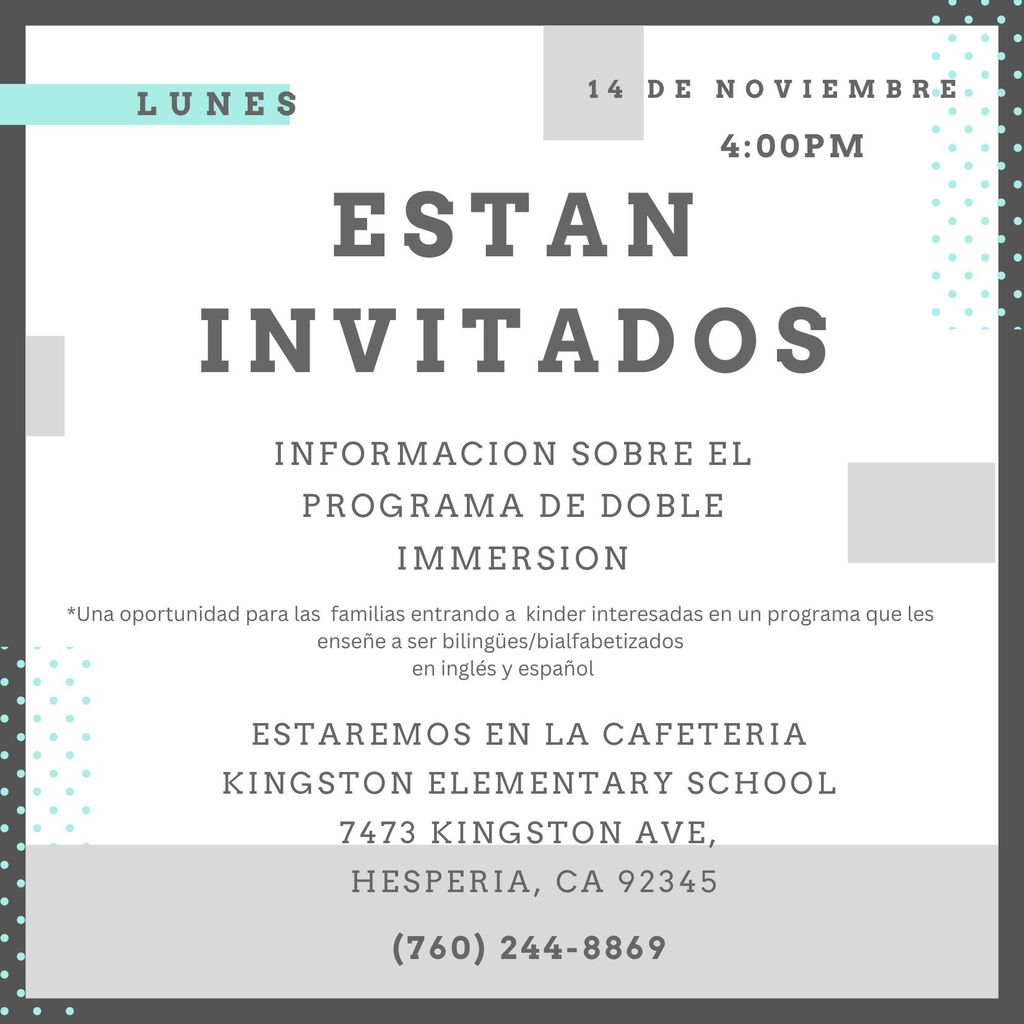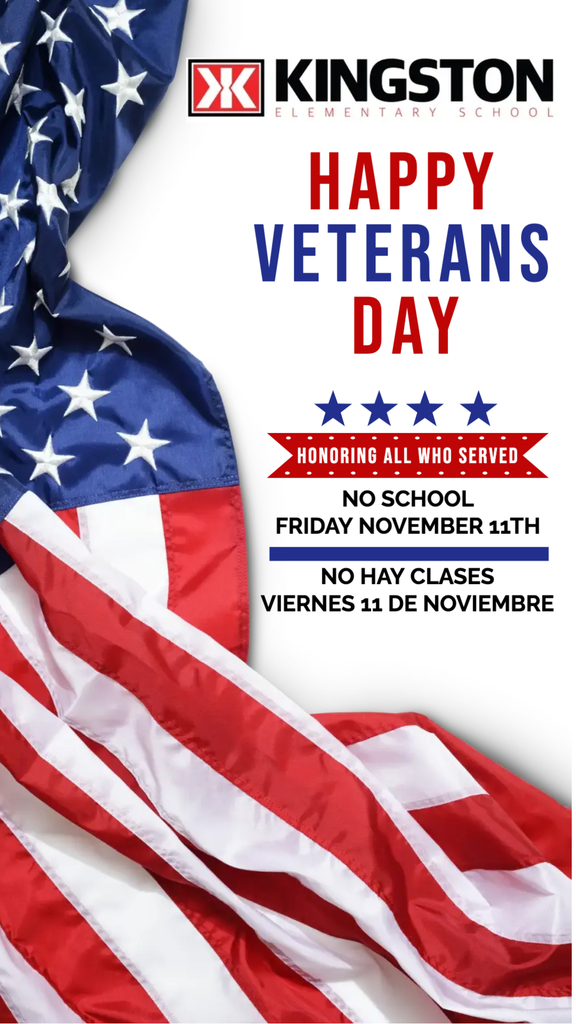 Parents, please be aware that some criminal drug networks are using social media and smartphone apps to flood the U.S. with deadly fentanyl and fentanyl-laced fake pills. Monitor your children's social media and phone usage to prevent these criminals from preying on them. #OnePillCanKill Learn more at
https://www.husdpd.com/o/husd-police-department/page/fentanyl-resources

Good afternoon Kingston Families! We are happy to announce that our Kingston Spiritwear Store is now open! Please click on the link below to place your order. Please be aware that all orders will be shipped once the store closes on Nov. 19th.
http://rb.gy/6wbjmq
¡Buenas tardes familias de Kingston! ¡Estamos felices para anunciar que nuestra tienda de espiritu escolar ya está abierta! Haga clic en el enlace para hacer su orden.Tenga en cuenta que todas las ordenes se enviarán hasta que cierre la tienda Nov. 19.
http://rb.gy/6wbjmq


Kingston families, you are invited to join us for our ELAC (English Learner Advisory Committee) meeting. This meeting will take place today October 25th at the Kingston Library from 9:30am-10:30am. We will be meeting with one another, talking about the school plan and safety plan. Familias de Kingston, están invitados a unirse a nosotros en nuestra reunión de ELAC (Comité Asesor de Aprendices de Inglés). Esta reunión tendrá lugar hoy 25 de octubre en la Biblioteca de Kingston de 9:30 am a 10:30 am. Nos reuniremos unos con otros, hablando sobre el plan escolar y el plan de seguridad escolar.
https://live.myvrspot.com/file?v=ZTc3Y2NhMjliNjM5YmU0Njg2Y2E4MGFjMDBjYThkYjg.pdf&option=view

Brightly-colored fentanyl (referred to as rainbow fentanyl) has been identified as a new trend according to the United States (U.S.) Drug Enforcement Agency (DEA). Rainbow fentanyl can be found in many forms, including pills, powder, and blocks that can resemble sidewalk chalk or candy. Any pill (regardless of its color, shape, or size) that does not come from a health care provider or pharmacist can contain fentanyl and can be deadly. For more information you can visit the DEA website here:
https://www.dea.gov/press-releases/2022/08/30/dea-warns-brightly-colored-fentanyl-used-target-young-americans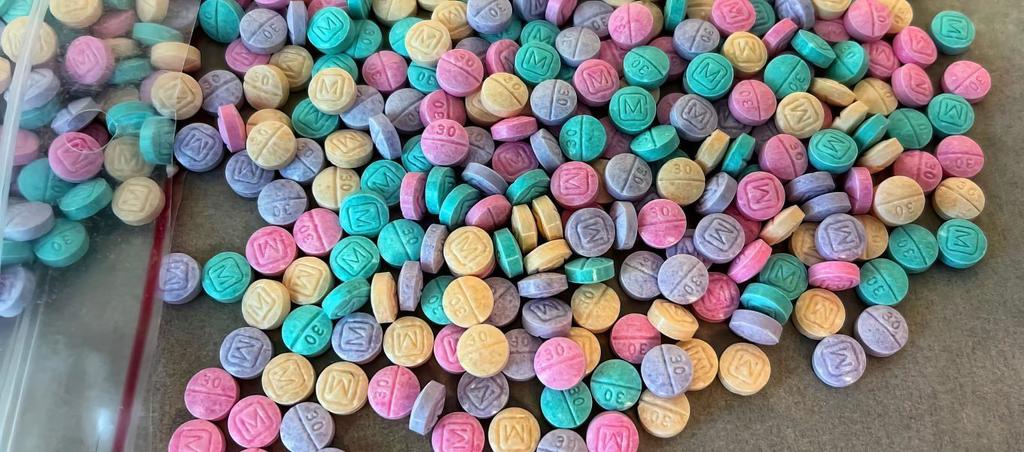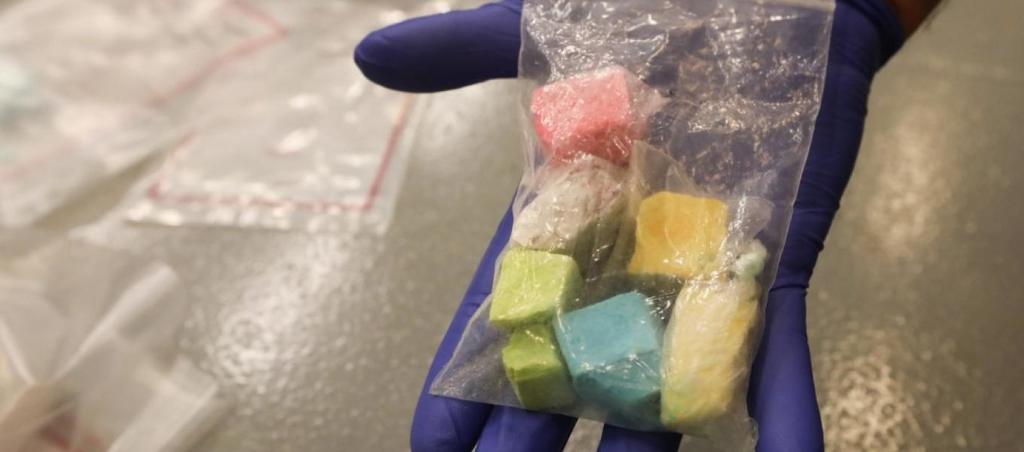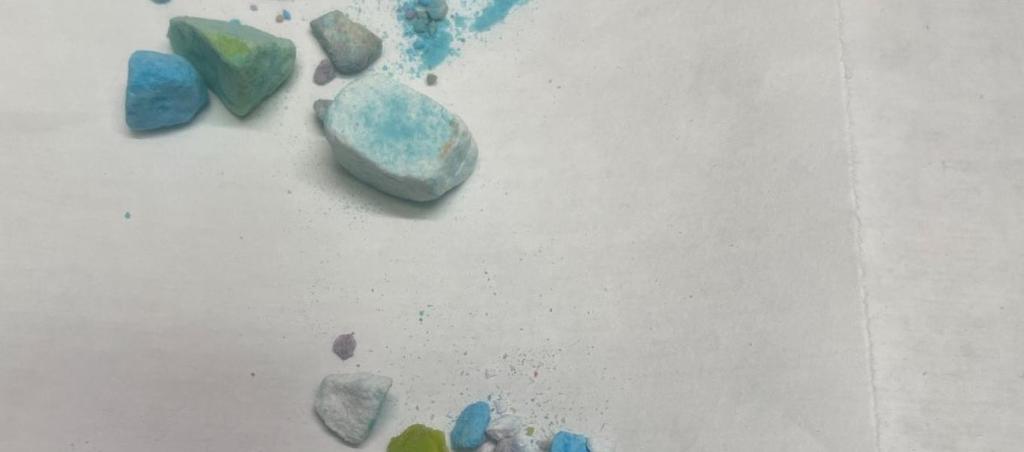 Clarification to Minimum Days schedule: (Tuesday 27th– Friday 30th) TK & K that normally get picked up at 1:06 will get picked up at 12:09 TK & K that typically stay for intervention and enrichment until 3:27 will go home their typical way at 1:20 All other grades will be dismissed at 1:20. Aclaración al horario de Días Mínimos: (Martes 27 – Viernes 30) TK & K que normalmente se recogen a la 1:06 se recogerán a las 12:09 TK & K que normalmente se quedan para la intervención y el enriquecimiento hasta las 3:27 se irán a casa a la 1:20. Todos los demás grados serán despedidos a la 1:20.

Kingston families, just a reminder that minimum day schedule starts tomorrow Tuesday September 27th through Friday September 30th. Dismissal will be at 1:20pm for all students. Today is regular schedule. Familias de Kingston, solo un recordatorio de que el horario de día mínimo comienza mañana martes 27 de septiembre hasta el viernes 30 de septiembre. La salida será a la 1:20 pm para todos los estudiantes. Hoy es horario regular.


Kingston families, photo packets will be coming home today with your student. Please view the flyer for more information.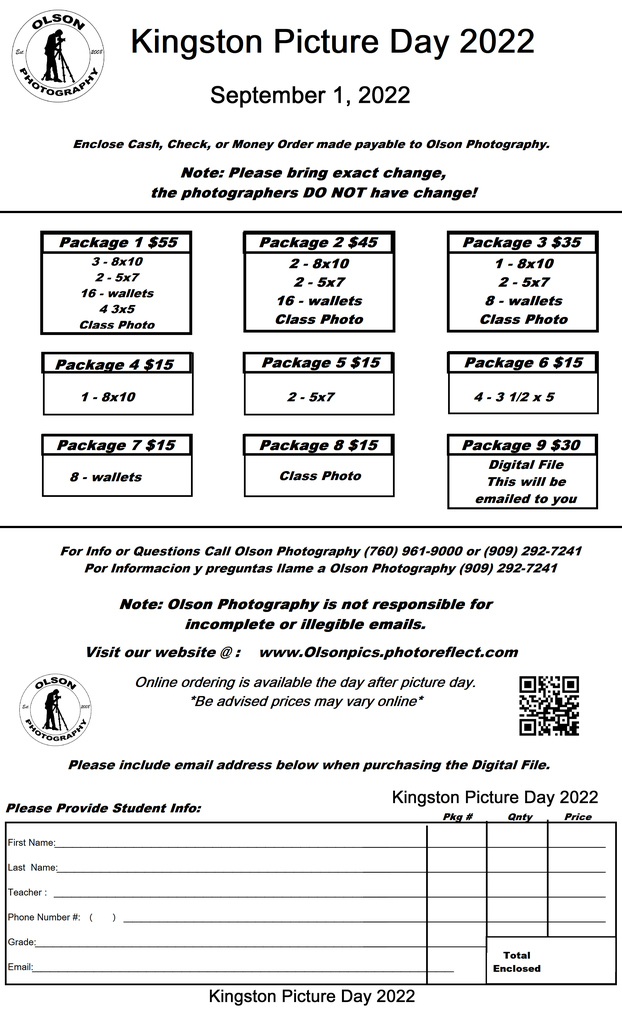 La Noche de Regreso a la Escuela es mañana, 25 de agosto de 2022. Los maestros realizarán 3 sesiones para acomodar a las familias con varios niños y ayudar a apoyar sus horarios. Las sesiones comienzan a las 5:30 p. m., 6:00 p. m. y 6:30 p. m. Las puertas se abrirán a las 5:25 y se le permitirá caminar directamente al salón de clases de su hijo. Cada sesión tiene una duración aproximada de 20 minutos. Tenga en cuenta que el campo y el patio de recreo estarán cerrados durante la Noche de Regreso a Clases. Los niños deben quedarse con sus padres. ¡Gracias! Esperamos verlos.

Reminder: Back to School Night is tomorrow, August 25th, 2022. Teachers will hold 3 sessions to accommodate families with multiple children and to help support your schedules. The Sessions start at 5:30pm, 6:00pm, and 6:30pm. Gates will open at 5:25 and you will be allowed to walk directly to your child's classroom. Each session is approximately 20 minutes long. Please note that the field and playground will be closed during Back to School Night. Children must stay with their parents. Thank you! We are looking forward to seeing you.